Information
G7 Development and Education Ministers reaffirm education is key for sustainable development
Girls' empowerment through education, skills building for the youth with quality and inclusive TVET and strengthening support to the education systems in Sahel countries were set as G7 priorities.
The first ever joint meeting of G7 Development and Education ministers was convened in Paris 5 July 2019. Under the French Presidency of the G7, the Ministerial had a special focus on girls' education, vocational training and strengthening resilience in the Sahel region through education. the EU was represented in the meeting by the Director-General for International Cooperation and Development, Stefano Manservisi.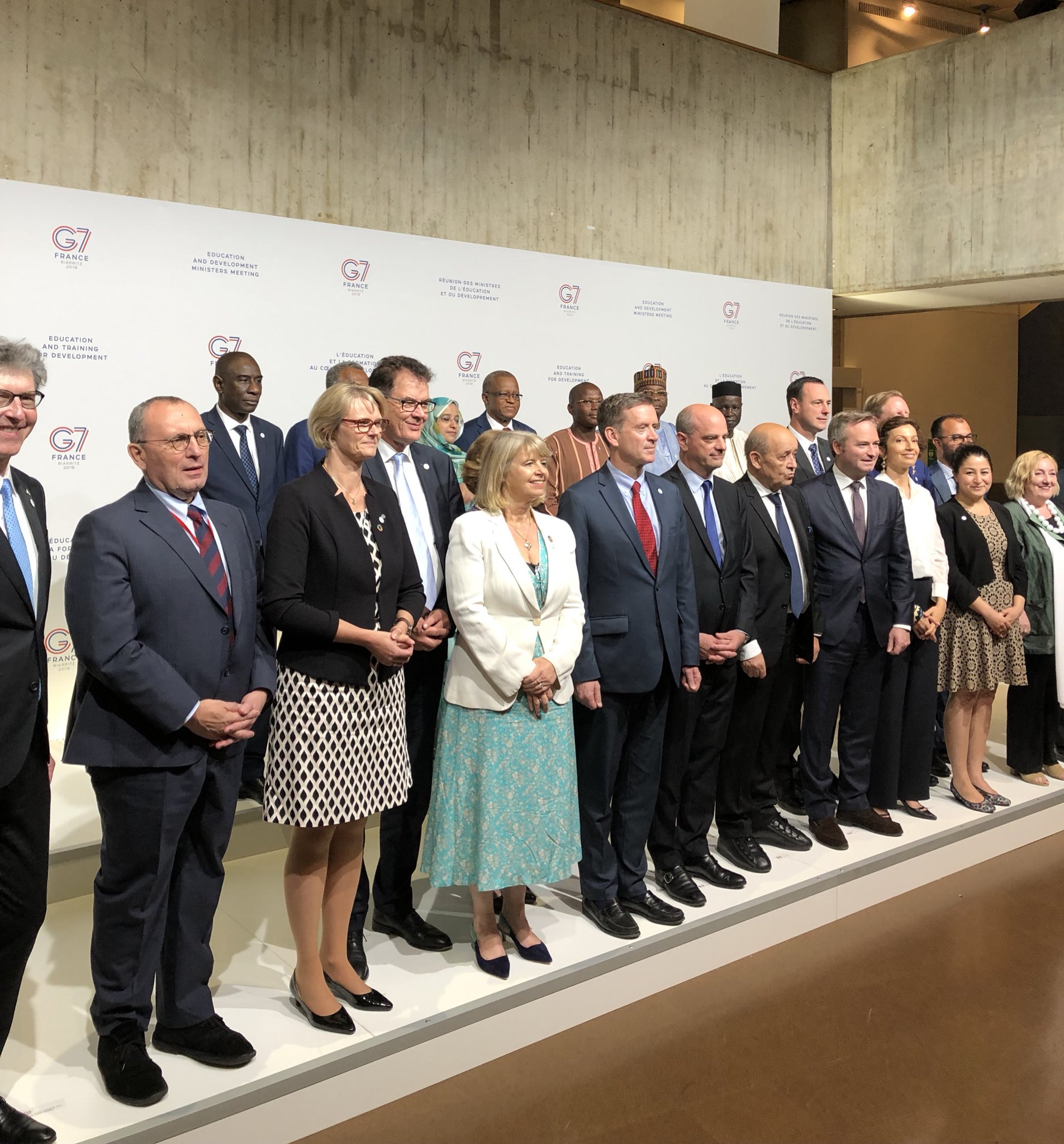 The Joint communiqué of the G7 Ministers of Education and International Development set out the priorities and commitments of G7 ahead of the Biarritz Summit that will be held in late August. Development and Education ministers once again reaffirmed the international commitment for investing in quality education for all, especially for the hardest to reach children, including girls in situations of conflict, crisis and fragility, rural girls, married girls, and girls with disabilities. Upon proposal of the French Presidency, a new Gender at the Center Initiative (GCI) was launched at the Ministerial. The objective of the GCI is to support partner countries for mainstreaming gender in their education policies and accelerating actions on girls' education and gender equality. This new initiative is welcomed by the EU which is committed to facilitate delivering change and gender equality results in and through education.
Acknowledging that a solid basic education followed by inclusive and quality technical and vocational training (TVET) can unlock the potentials of millions of young people in the Communiqué, the Education and International Development Ministers also announced a G7 Commitment Charter on TVET cooperation with developing countries. The Charter sets four guiding principles for cooperation with developing countries for efficient and inclusive TVET policies: 1) promoting a demand-driven system focused on employability, 2) Improving TVET governance, 3) Improve quality and efficiency, and 4) promoting a gender-responsive and inclusive system, "leaving no one behind".
Recognizing the significant and persistent challenges facing education in sub-Saharan Africa and in Sahel countries, G7 pledged in the Communiqué to increase political and financial support to education in the Sahel region, including basic education, and TVET, with a focus on empowerment of girls.
The Ministerial meeting was followed by the International Conference on Innovating for Girls' and Women's Empowerment Through Education organised by the G7 French Presidency in collaboration with UNESCO. The conference helped showcasing innovative initiatives and solutions to improve access for girls and women to quality education. Nobel Peace Prize winner Malala Yousafzai attended the conference as the special guest and called on the international community to increase their support to girls' education. Director-General for International Cooperation and Development, Stefano Manservisi attended the conference as one of the speakers on "Innovating to break stereotypes and educate young women as agents of change" panel. He shared good practices supported by the EU to eliminating gender stereotypes and empowering women and girls through education in the partner countries.