Today we mark the 10th anniversary of the European Antibiotic Awareness Day, by raising awareness once more about the antimicrobial resistance (AMR) – one of the biggest threats to global health. With 25 000 deaths per year and € 1.5 billion in healthcare costs and productivity losses in the EU, a robust communication effort is needed more than ever. But raising awareness is not enough, we need action that bridges differences and raises the level of all Member States to that of the highest performer.
With increasing resistance even to last-resort antibiotics such as Colistin, we face a frightening "post-antibiotic" future where we could lose the ability to perform any major surgery, organ transplant or successfully implant devices like new hips or heart valves. By 2050, AMR could potentially kill one person every three seconds and become a more common cause of death than cancer.
It is precisely to avoid this unthinkable future that on 29 June we presented a new One Health action plan against AMR, building on nearly two decades of EU action in both the human health and veterinary health sectors, taking account of the lessons learnt from the previous EU actions. It stresses that we need to tackle antimicrobial use in people and animals simultaneously, while better addressing the role of AMR in the environment. It stresses that the EU should play a leading role in the fight against AMR and should add value to Member States' actions.
The goal of the new Action Plan is to preserve our ability to effectively treat infections in humans and animals. The key objectives are: 'Making the EU a best practice region'; 'Boosting research and innovation'; and 'Shaping the global agenda'.
The key objectives of the new AMR Action Plan: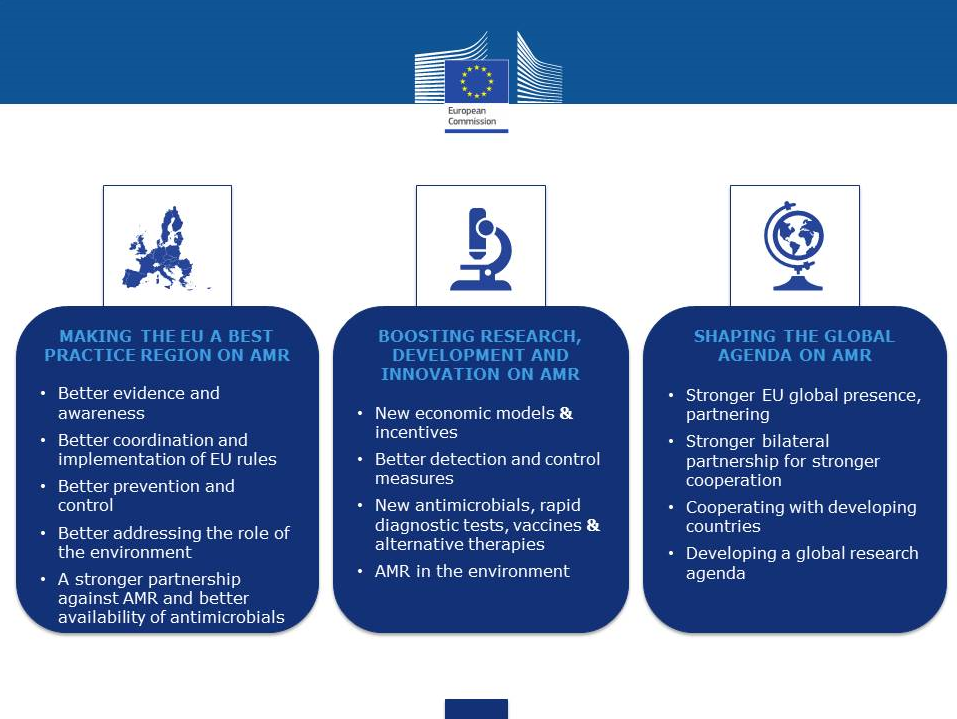 We are already making progress on some of the actions. For example, this June, the Commission adopted EU Guidelines on the prudent use of antimicrobials in human health; September saw the launch of the European Joint Action on Antimicrobial Resistance and HealthCare-Associated Infections (EUJAMRAI), involving 28 countries; and last month, ECDC, EFSA and EMA adopted a Scientific Opinion setting out indicators that address both the human and animal sectors so that the EU and Member States can measure progress.
In the research arena, investment will continue under Horizon 2020 where until now, projects with a cumulative budget of EUR 350 million are funded. An additional EUR 200 million has been committed to AMR for the next 3 years. Furthermore, the EU will build on its successful large-scale international initiatives, such as the European and Developing Countries Clinical Trials Partnership and the Joint Programming Initiative on AMR to further develop a stronger and interconnected AMR research landscape with a true global outreach.
Later this year the Innovative Medicines Initiative (IMI) is expected to call for research to understand the value of diagnostics and the obstacles to their uptake. This will combine the expertise of academics, SMEs and the pharma industry. It will also expand IMI's New Drugs for Bad Bugs programme that has already invested heavily in AMR.
European SMEs are the drivers of innovation in AMR. Two SMEs will be given a new impulse for their development of new antimicrobials and alternatives with funding under the new InnovFin Infectious Diseases (InnovFin ID) finance facility.
Furthermore, we have set up a One Health Network to give Member States' experts from the human and veterinary health sectors a forum to exchange good practices.
Whilst the ambitious EU Action Plan in being implemented, we have much more work ahead of us to bring all EU countries up to the same high standard, and to extend these standards internationally. As the more dire estimates predict that if current resistance rates increase by 40%, we could face 390 000 deaths per year in Europe by 2050 the stakes couldn't be higher. It is only by working together at European and international level, that we can control and reverse antimicrobial resistance. Today, on European Antibiotic Awareness Day, we reaffirm our commitment to do exactly that.
For further information