What is the Rapid Alert System for non-food dangerous products?
The European Rapid Alert system for non-food dangerous products ensures that information about dangerous products withdrawn from the market and/or recalled from consumers anywhere in Europe is quickly circulated between Member States and the European Commission, so that appropriate action can be taken everywhere in the EU. Thirty-one countries (EU Member States together with Iceland, Liechtenstein and Norway) participate in the system.
The system was established by the General Product Safety Directive and became fully operational in 2004. The most common measures are: ban/stop on sales; withdrawal of a dangerous product from the market or recall from consumers; and import rejection by the customs authorities.
Total number of notifications and number of notifications signalling products that pose a serious risk, by year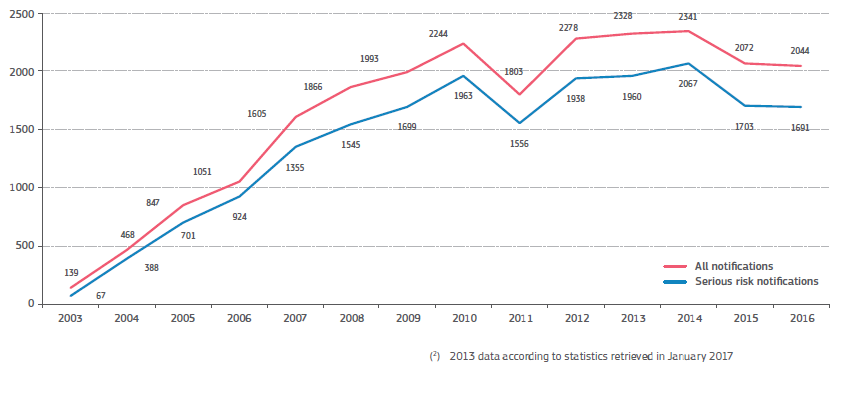 What is covered by this alert system?
The system covers dangerous non-food products intended for consumers (e.g. a toy, a cosmetic product, clothing, childcare products) and for professionals (e.g. machinery, construction products), which pose a serious risk to their health and safety (e.g. risks of injuries, chemical risks etc.).
The system also includes alerts concerning products that pose other indirect hazards to consumers and the environment caused by the presence of heavy metals and persistent organic pollutants that can contaminate soil and water.
Pharmaceutical products and medical devices are excluded from the scope of this Rapid Alert System as they are covered by their own specific alert systems.
What are the obligations of national authorities?
The role of national authorities is to ensure that businesses respect their obligation to place only safe products on the market. For that purpose, they carry out market surveillance and intervene when non- compliant products are offered for sale or detected on the market. In such cases, they act to ensure these products are removed or banned. To ensure that these measures are also known by the other European countries and are swiftly followed Europe-wide, this information is circulated via the Rapid Alert System. This is done via the designated national Contact Points that coordinate the information exchange at national level. Notifications submitted are validated by the Commission and rapidly circulated to the participating countries for appropriate action. The results of these follow-up activities are reported back through the system.
What is expected from businesses?
Once aware that a product is dangerous,, producers, importers or distributors must immediately take the necessary action to correct this situation and cooperate with national market surveillance authorities. To facilitate compliance with the requirement a specific IT tool, the so-called "Business Application" can be used by the companies.
Analysis of the activities related to the Rapid Alert System
What were the most significant developments in 2016?
The Rapid Alert System for non-food, dangerous products has been recording a fairly stable number of alerts over the last few years. In 2016, the number of notifications of consumer products posing a risk to health and safety was very similar to last year's: 2,044 but the reporting activity of follow-up measures on notifications has increased significantly, totalling 3,824, meaning that consumer authorities in different countries increasingly follow up on alerts circulated.
In 2016, two workshops took place with businesses, authorities and consumer organisations to boost the use of the Rapid Alert System. This has already led to a complete revamp of the public webpages of the Rapid Alert System. Screens have been made responsive to optimise view on mobile devices and alerts can be shared via social media. Users can now also create personalised weekly updates of alerts according to their individual needs and search results can be downloaded in formats useful to link with other databases. The active engagement with stakeholders will continue in the coming years.
What were the main findings in 2016?
This year, the figures registered in the Rapid Alert System are very similar to those registered in previous years, with the exception of the number of reactions that increased significantly:

The main risk found was "Injuries" (25%), due to the increase in notifications referring to "motor vehicles". "Chemical" risk follows just behind, representing 23% of the notifications.
Which EU countries notified most cases?
In 2016, all participating countries, except Liechtenstein, notified measures taken against dangerous products. The 3 countries with most notifications were
- Germany: 16% (319 notifications)
- Spain 11% (224 notifications)
- France 10% (199 notifications)
What does it show when a country makes a lot of notifications - is it that there are more dangerous products on that particular market?
The number of notifications made by a particular Member State cannot be directly linked to the level of safety of the products on its market. There may be many reasons why some Member States have more notifications than others: large market, large import volumes, experienced inspectors, etc. In general, the European countries which have the biggest markets and the greatest number of imported goods, and which also have the highest number of inspectors, find more dangerous goods and thus notify through the Rapid Alert System more often than smaller countries.
What were the main products and risks detected through the Rapid Alert System?
The product categories most often notified were:
| | | |
| --- | --- | --- |
| 1. Toys | 26% | (540 notifications) |
| 2. Motor vehicles | 18% | (372 notifications) |
| 3. Clothing, textiles and fashion items | 13% | (266 notifications) |
| 4. Electrical appliances and equipment | 7% | (144 notifications) |
| 5. Childcare articles and equipment | 5% | (100 notifications) |
This distribution also shows a relatively stable pattern of product categories for which notifications have been made compared to the previous years.
The explanation for this similar pattern can be explained by the high volume of consumption/supply in the five categories (e.g. electrical appliances include mobile phones, laptops, extension leads, battery chargers), which increases the chances of finding dangerous products.
In 2016, the most notified risk was "Injuries" (25%) and it concerned products from the product categories "Motor vehicles", for which there was an increase in notifications compared to last year. The second most notified risk was "Chemical" (23%) which has been over the years consistently and closely followed up by national authorities
The five most frequently notified risk categories were:
| | | |
| --- | --- | --- |
| - Injuries | 25 % | (575 notifications) |
| - Chemical | 23 % | (524 notifications) |
| - Choking | 14 % | (336 notifications) |
| - Electric shock | 11 % | (257 notifications) |
| - Fire | 9 % | (204 notifications) |
Where did the largest amount of dangerous products come from in 2016?
The majority of dangerous products notified in the system came from outside the EU. China (including Hong Kong) was indicated as a country of origin for 53% (1,069) of notified products, down from 62% in 2015.
Dangerous products of European origin accounted for 468 notifications (23%), up from 15% in 2015.
In 2016, 102 notifications (5%) signalled the United States as country of origin.
How does the Commission cooperate with China?
The European Commission has an established, regular cooperation with the Chinese authorities on product safety issues. This includes, since 2006, a systematic exchange through a specific IT module called "RAPEX-China" with the Chinese authorities on information related to notifications concerning dangerous products of Chinese origin detected by EU Member States. These notifications are investigated by the Chinese authorities and the results and follow up actions taken in China are reported back to the European Commission. So far, 36 quarterly feedback reports have been provided to the Commission. The results of cases reported in recent years show that in 2013, measures could be taken by the Chinese Authorities in 44 % of the notifications that were traceable. In 2014, this amounted to 36% and in 2015 to 37%.
In the framework of the regular political dialogue with China, Commissioner Jourova met with her Chinese and US counterparts at the Trilateral Product Safety Summit in Beijing in June 2016 to reinforce cooperation on product safety matters, with particular emphasis on the safety of products sold online.
For more information:
Search tool for the Rapid Alert System published information
Rapid Alert System national contact points
Annual report and statistical information