Please also see the press release on the report.
What is a capacity mechanism?
Capacity mechanisms are support schemes that remunerate the availability of electricity generation. Adequate capacity is needed to avoid black-outs and ensure that electricity supply meets demand at all times. For example, the growing share of renewable energy sources like wind and solar energy, the output of which varies with weather conditions and the time of day, requires reliable back-up capacity to ensure constant security of supply.
Typically, capacity mechanisms offer additional remuneration to electricity generators and other capacity providers, such as demand response operators, on top of income obtained by selling electricity on the market. In return, capacity providers are required to maintain existing capacity or invest in new capacity required to guarantee the security of electricity supplies. This additional remuneration may have an impact on competition in the EU Single Market and has to be assessed under EU state aid rules, in particular the Commission's 2014 Energy and environmental state aid guidelines. The state aid rules will be complemented by today's Clean Energy for All Europeans package, which will create a European legal framework for capacity mechanisms, introduce concrete rules for cross-border participation and lead to the integration of capacity markets. This new legal framework will facilitate state aid control by the Commission.
Why a sector inquiry on capacity mechanisms?
An increasing number of Member States are introducing such capacity mechanisms. However, depending on whether they address a genuine need, how they are designed and implemented in practice, capacity mechanisms also have the potential to fragment the EU Single Market, distort competition by favouring certain producers or types of technology, and create barriers to trade across national borders.
The sector inquiry aimed at getting a better understanding of these measures and ensuring that they comply with EU state aid rules. In particular, the sector inquiry has enabled the Commission to:
collect the views not only of Member State authorities as in case investigations, but also of stakeholders such as electricity generators, suppliers, network operators and demand response providers to inform the Commission of problematic issues
identify design features that may distort competition between capacity providers (e.g. between power generators and demand response operators) and distort cross-border trade
promote competitive and market-based capacity mechanisms that complement the internal energy market rather than divide it, and
ensure Member States design and implement pro-competitive and market-based capacity mechanisms, in line with EU state aid rules.
The sector inquiry also complements the Commission's Clean Energy for All Europeans Package to create a connected, integrated and secure energy market in Europe.
What types of capacity mechanisms are implemented or in planning in the EU?
The inquiry found 35 past, existing or future capacity mechanisms in the 11 Member States covered by the inquiry (Belgium, Croatia, Denmark, France, Germany, Ireland, Italy, Poland, Portugal, Spain and Sweden). The identified capacity mechanisms can be divided into targeted mechanisms, market-wide mechanisms and demand-response schemes, also known as interruptibility schemes.
Almost two thirds of the capacity mechanisms identified in the sector inquiry are targeted mechanisms, i.e. they give support only to the extra capacity required on top of that provided by the market absent the subsidies. They benefit only specific types of operators. There are three types of targeted mechanisms:
Currently the most common capacity mechanism is a "strategic reserve". These were found in five Member States. They involve governments paying providers for keeping power plants operational, which can be called upon by the network operator in emergency situations.
Tenders for new capacity, where support is granted to new investment projects often located in a specific area, were found in four Member States. All tenders for new capacity were very specific on size, technology type and location of eligible capacity providers.
Targeted capacity payment schemes, where administrative payments are made to a subset of capacity in the market, exist in four Member States. In general, the beneficiaries of targeted capacity payments must make their capacity available during peak demand periods, or face financial penalties. The schemes typically cover one or more types of electricity generation (coal, gas, hydro with storage and sometimes oil). The price paid for capacity in these schemes is set by the administration involved, rather than through a competitive tender process, which increases the risk of overcompensation of the beneficiaries.
Most of the mechanisms currently being planned by Member States are market-wide. Market-wide mechanismsgive support to all market participants required to meet the reliability standard and are in principle open to participation from all categories of capacity providers. The sector inquiry has identified three types of market-wide mechanisms: central buyer models, where a central buyer purchases the capacity required on behalf of suppliers/consumers; decentralised obligation schemes, where an obligation is placed on suppliers to make their own arrangements to contract the capacity they require; and price-based capacity payments, where an administrative payment is available to all market participants.
The Commission found eight so-called demand-response or 'interruptibility schemes', in which the network operator pays industrial customers to reduce their demand when electricity is scarce. These are also considered a form of "reserve", as they provide capacity that is only activated when a supply shortfall occurs. Provided they are well designed, interruptibility schemes can kick-start the development of important demand side flexibility.
Overview of capacity mechanisms found in the inquiry: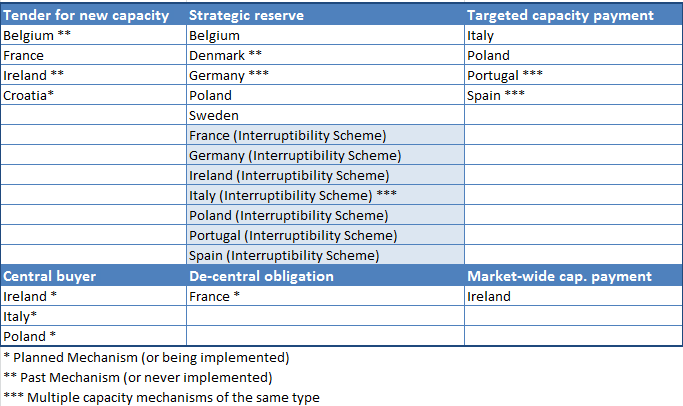 What are the Commission's main conclusions from the sector inquiry?
The final report draws seven main conclusions:
1) It has become clear that despite current overcapacity in the EU as a whole, there are widespread concerns that insufficient generation capacity will remain in the market or be available in the future to ensure adequate security of supply.
2) Electricity market reforms are indispensable since they help to address concerns about inadequate security of supply. However, most Member States have yet to implement appropriate reforms. The Commission's Clean Energy for All Europeans Package therefore proposes a number of reforms to improve the functioning of EU electricity markets and the Commission will require Member States to implement reforms to accompany plans to introduce any capacity mechanism. Examples of key reforms put forward by the Clean Energy for All Europeans Package are the removal of price caps on the wholesale market and the reform of short term markets, which will be made more flexible and responsive to the rise in variable renewable generation.
3) Even if a reformed market in principle has the potential to deliver secure supplies, uncertainty may persist about whether an increasingly volatile market price and rare scarcity situations can drive long-term investment decisions. Some Member States have therefore decided to introduce capacity mechanisms to ensure security of electricity supply. These mechanisms involve state aid and must be notified to the Commission for assessment under EU state aid rules. The Commission will examine in particular whether Member States have demonstrated the necessity of the proposed capacity mechanism and whether measures are in place to minimise the distortions of competition that they generate, taking account of the guidance summarised in the Final Report of the sector inquiry.
4) A rigorous adequacy assessment against a well-defined economic reliability standard is crucial for identifying risks to the security of supply and for determining the necessary size of any capacity mechanism. This will significantly reduce the risk of over-procurement and help to limit the distortions of competition that capacity mechanisms create. Further EU harmonisation of adequacy assessments will help to increase transparency and build confidence in their results. The Commission's Clean Energy for All Europeans Package therefore proposes to develop an enhanced EU-wide adequacy assessment methodology and annual adequacy assessments to be conducted by the European Network of Transmission System Operators for Electricity.
5) The type of capacity mechanism chosen should address the problem identified (see next question for details). Whatever the mechanism chosen, it should be regularly reviewed to check that there is a continued need for it.
6) Capacity mechanisms should be open to all types of potential capacity providers. This, combined with a competitive price-setting process, ensures that too much is not paid for capacity. The only exceptions are specific mechanisms for demand response, given their particular suitability for addressing underlying market failures, and strategic reserves, with the caveat that they should not promote new generation capacity to minimise market distortions.
7) Market wide capacity mechanisms must be open to explicit cross-border participation in order to minimise distortions to cross-border competition and trade, ensure incentives for continued investment in interconnection and reduce the long-term costs of European security of supply.
Does the Commission prefer certain models of capacity mechanism over others?
The type of capacity mechanism chosen should address the problem identified:
Where a Member State identifies a long-term risk that there will be insufficient investment, market-wide capacity mechanisms (like those introduced in the UK and France, and planned in Ireland and Italy) are likely to be the most appropriate form of intervention. In parallel, market reforms need to be implemented to limit the public funding needed through the capacity mechanism.
Where a Member State identifies a temporary risk, a strategic reserve is likely to be the most appropriate form of intervention, as it is designed to deal with situations where the market will deliver security of supply in the longer term, but concerns exist about capacity in the short to medium term. Strategic reserves should only be deployed in emergency situations. They should be held outside the market to minimise distortions to its day to day functioning. Strategic reserves must be transitional measures, which accompany market reforms, and phased out as soon as the reforms take effect.
Where a Member State identifies a local generation adequacy issue, the choice of mechanism will depend on the specific market conditions. In the long run however, the local problem should be solved by better grid connections or by more appropriate bidding zones that introduce local electricity prices reflecting the balance of local supply and demand.
Where a Member State is concerned about insufficient development of flexible demand, an interruptibility scheme may be an appropriate solution, but they must not become a subsidy for energy-intensive industries.
Administrative capacity payments are unlikely to be appropriate, regardless of the specific issues facing a Member State, because the absence of a competitive process means a high risk of failing to achieve the capacity objective or of over-compensating.
How many replies to the sector inquiry did you receive?
The Commission sent detailed questionnaires to over 200 public bodies, energy regulators, network operators and market participants commercially active in the 11 Member States covered by the inquiry. It received 124 replies.
The Commission then published its Interim Report for public consultation. It received comments from 114 stakeholders from 19 Member States and from Norway and Switzerland, including 62 replies from associations and 20 public bodies. Most of the tentative conclusions of the Interim Report received positive and affirmative feedback from respondents. A clear majority agree that capacity mechanisms are sometimes necessary to ensure security of supply but that they should be implemented as a last resort measure only. Other conclusions have been updated and amended to reflect the comments received. For instance the tentative conclusions related to the appropriateness of strategic reserves has been amended, to reflect situations in which these reserves can be an acceptable means of temporary intervention (see a summary of responses and how they were reflected in respectively Annex 1 and Annex 3 to the Staff Working Document accompanying the Final Report).
What's next?
Since the inquiry has found that a number of existing capacity mechanisms have major shortcomings, the Commission will continue to work with the Member States to bring these schemes in line with State aid rules. In addition, any new plans of Member States to introduce capacity mechanisms will be assessed in light of the insight gained from the sector inquiry.