EUROPEAN INNOVATION SCOREBOARD
What is the European Innovation Scoreboard (EIS)?
The European Innovation Scoreboard[1] provides a comparative assessment of research and innovation performance and the relative strengths and weaknesses of national research and innovation systems. It covers the EU Member States as well as Iceland, Israel, the Former Yugoslav Republic of Macedonia, Norway, Serbia, Switzerland, Turkey, and Ukraine. It helps them assess areas in which they need to concentrate their efforts to boost their innovation performance. On a more limited number of indicators, available internationally, it also covers Australia, Brazil, Canada, China, India, Japan, the Russian Federation, South Africa, South Korea, and the United States.
This year's Scoreboard includes a new forward-looking section focusing on recent developments and expected changes. The section discusses trend performance of the EU compared to that of its main international competitors and expected changes for 20 indicators, including six indicators built on fast-track data from the Community Innovation Survey.
The 2016 Scoreboard shows that the most innovative countries perform best on all measures: from research and innovation inputs, through business innovation activities up to innovation outputs and economic effects, which reflects a balanced national research and innovation system.
By boosting private investment and improving the framework conditions for innovation, the EU has the potential to lead in innovation at the global stage. The EU as a whole is already catching up with global innovation leaders, and in fact the top performing Member States are on a par with the US, Japan and South Korea.
The Commission is taking decisive action to improve conditions for innovation through initiatives such as its Investment Plan for Europe, the Single Market agenda and the Horizon 2020 Policy Support Facility (for further details, please refer to the final section of these FAQs).
What are the key drivers of innovation?
To achieve a high level of performance, countries and regions need a balanced innovation system performing well across all dimensions. They need an appropriate level of public and private investment, effective innovation partnerships among companies and with academia, as well as a strong educational basis and excellent research. Also, the economic impact of innovation needs to manifest itself in terms of sales and exports of innovative products as well as in employment.
What are the indicators used for the scoreboard?
The European Innovation Scoreboard captures a total of 25 different indicators, distinguishing between eight innovation dimensions and three main categories of indicators:
Enablers - are the basic building blocks which allow innovation to take place – human resources, open, excellent and attractive research systems, and finance and support.
Firm activities - capture innovation efforts in European companies – company investments, linkages and entrepreneurship, and intellectual assets.
Outputs - show how this translates into benefits for the economy as a whole – innovators and economic effects.
For more methodological explanations see to chapter 8 of the EIS 2016 and to the EIS Methodology Report.
Four different performance groups for EU countries:
Innovation Leaders - Denmark, Finland, Germany, the Netherlands and Sweden whose innovation performance is well above that of the EU average;
Strong Innovators - Austria, Belgium, France, Ireland, Luxembourg, Slovenia, and the United Kingdom whose innovation performance is above or close to that of the EU average;
Moderate Innovators - Croatia, Cyprus, the Czech Republic, Estonia, Greece, Hungary, Italy, Latvia, Lithuania, Malta, Poland, Portugal, Slovakia, and Spain whose innovation performance is below the EU average;
Modest Innovators - Bulgaria and Romania whose innovation performance is well below that of the EU average.
Figure 1: EU Member States' innovation performance in 2015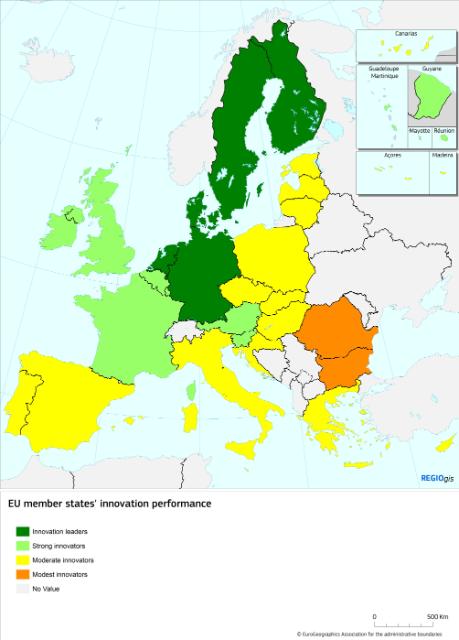 EU performance leaders in specific areas of innovation:
In some areas of innovation, different EU countries take the lead:
Quality of academic research - Sweden is the best performing country, followed very closely by the United Kingdom, the Netherlands, Belgium, Luxembourg and Denmark. These countries are open for cooperation with partners from abroad, researchers are well networked at international level, and the quality of research output is very high. Sweden also leads in the human resources area of innovation, followed by Slovenia, Ireland, the United Kingdom, Finland and Latvia.
Financial framework conditions - Finland is the leader, followed by Estonia, Sweden, the Netherlands and Denmark. These countries are characterised by a public sector ready to perform or support R&D activities and by the availability of risk capital for private companies to develop new technologies.
Companies that invest a lot in innovation - Germany is the overall leader, followed by Estonia, Austria and Finland. In these countries, companies invest more in innovation activities, both for science-based R&D activities and non-R&D innovation activities, including investments in advanced equipment and machinery.
Innovation networks and collaboration - Belgium is the top performer, followed by Denmark, the Netherlands, Sweden and Finland. Companies in these countries have more versatile innovation capabilities as they combine in-house innovation activities with joint innovation activities involving other companies or public-sector organisations. The research systems in these countries are also geared towards meeting the demand from companies, as highlighted by high co-publication activities.
Innovation in small and medium-sized companies (SMEs) - Ireland is the leader, followed by Germany, Luxembourg, France, and Austria. These countries are characterised by high shares of SMEs involved in innovation activities: they introduce more innovative products and generate more new jobs in fast-growing young companies.
Have Member States improved their innovation performances?
Over an eight-year period (2008-2015), 21 Member States have increased their innovation performances. The fastest growing innovators are Latvia, Malta, Lithuania, the Netherlands, and the United Kingdom, with average annual growth rates in innovation performance of 2% or more (Figure 2).
Compared to last year, however, innovation performance has increased in only seven Member States (Bulgaria, Denmark, France, Ireland, Latvia, Malta, and the United Kingdom), while it has remained stable in four and declined in 17 Member States.
The decline can mostly be attributed to decreasing levels of innovation by SMEs, declining numbers of patent applications, and declining sales of innovative products.
Figure 2: EU Member States' performance growth (2008 – 2015)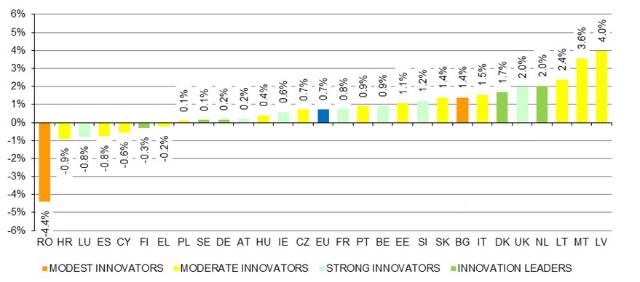 In which dimensions has Europe improved and worsened?
Growth has been particularly strong in the open, excellent research systems dimension, mainly driven by high performance in international scientific co-publications. At the same time, the finance and support dimension experienced very negative growth, due to a strong decline in venture capital investments. Declining performance of SMEs also contributed to the negative growth observed in Innovators. For more indicators, see figure 3.
Figure 3: EU average annual growth performance over 2008-2015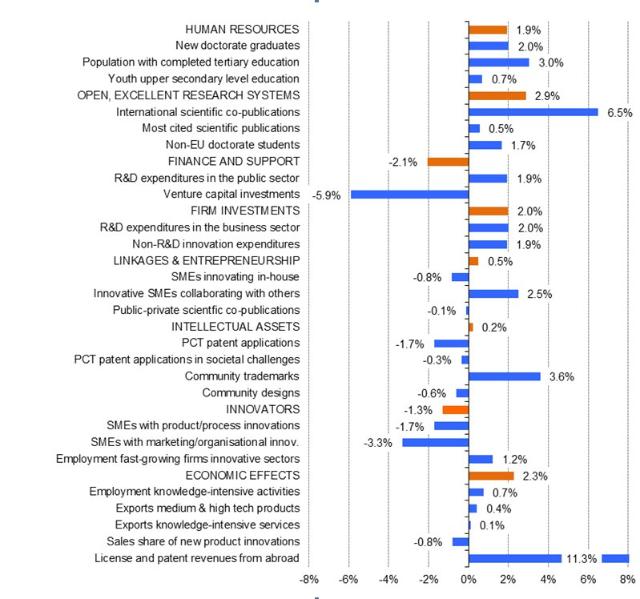 What does the international benchmarking tell us?
How does the EU's performance compare to other countries?
Outside the EU, Switzerland confirms its position as overall Innovation Leader in Europe. However, Switzerland's innovation performance has slightly decreased, while EU performance has continued to increase.
At global level, South Korea and the United States defend their positions as top international innovators. Together with Japan these countries maintain a performance lead over the EU. While the gap between the EU and both the United States and Japan is decreasing, the gap with South Korea is widening.
The EU maintains a performance lead over Australia and Canada and to a greater extent over Brazil, the Russian Federation, India, China and South Africa. This lead is stable or even increasing over all countries with the exception of China which continues to reduce the gap by growing faster than the EU.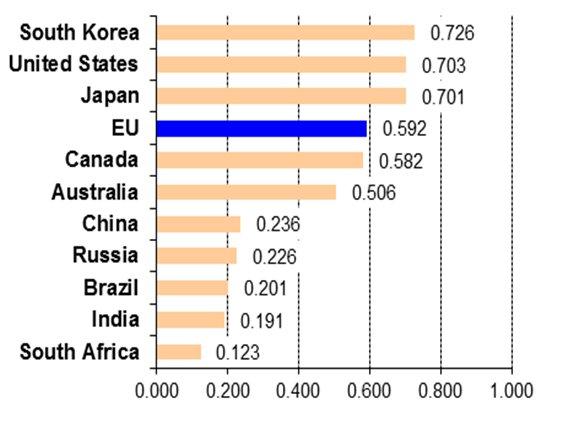 REGIONAL INNOVATION SCOREBOARD
What is the Regional Innovation Scoreboard?
The Regional Innovation Scoreboard (RIS) is a regional extension of the European Innovation Scoreboard, assessing the innovation performance of European regions on a limited number of indicators. The RIS 2016 covers 214 regions across 22 EU Member States and Norway. In addition, Cyprus, Estonia, Latvia, Lithuania, Luxembourg and Malta are included at the country level, as the regional administrative level does not exist in these countries.
What are the most innovative regions?
The most innovative regions are typically in the most innovative countries and excellence is concentrated in relatively few areas in Europe. All 36 EU regional Innovation Leaders are located in seven EU Member States: Denmark, Finland, France, Germany, the Netherlands, Sweden and the United Kingdom.
For most countries, there is limited variation in regional performance groups: in Austria, Belgium, Bulgaria, the Czech Republic, Hungary, Ireland and Romania, all regions are in the same performance group.
However, a stronger variation in some (mainly larger) countries also highlights regional specificities and the existence of regional 'pockets of excellence'. Six regional Strong Innovators are found in Moderate Innovator countries: Oslo og Akershus and Trøndelag in Norway, Piemonte and Friuli Venezia Giulia in Italy, País Vasco in Spain and Bratislavský kraj in Slovakia. Also, some regional Innovation Leaders are found in Strong Innovator countries. This is notably the case of East Midlands, London, South East and South West in the United Kingdom, and Île de France in France.
How can Key Enabling Technologies improve innovation performance?
Regional specialisation in Key Enabling Technologies (KETs) is positively linked to innovation performance, in particular in the domains of advanced materials, industrial biotechnology, photonics, and advanced manufacturing technologies. For example, Dresden and Overpfalz in Germany score well in KETs. For all KETs, except advanced manufacturing technologies, specialisation has been improving for the regional Strong and Moderate Innovators. Less innovative regions have become more specialised in KETs, thereby laying the foundation for possible innovation performance increases in the future, to the extent they succeed in connecting these to their economic strengths.
INNOBAROMETER
What is the Innobarometer?
While the Innovation Scoreboards provide a comprehensive assessment of national and regional innovation systems as a whole, the Innobarometer reveals recent trends and attitudes in businesses' innovation-related activities in the 28 EU Member States as well as in Switzerland and the United States. The Innobarometer is a telephone opinion poll of businesses: with more than 14,000 interviews, it is one of the biggest business surveys carried out in Europe.

What is the main goal of the survey?
The 2016 Innobarometer survey was designed in particular to collect companies' reasons to invest in innovation; the perceived barriers to commercialization of innovations; the use of design as a driver of innovation; progress towards industrial modernisation and the perceived need for public support. Also, this year the survey investigates the type of skills that innovative companies need.
What are the main findings of the Innobarometer 2016?
More than two thirds of companies have introduced at least one innovation since January 2013. This is a decrease of five percentage points since the last survey in February 2015.
The great majority of companies plan to maintain or increase the level of investment in innovation over the next 12 months. The two main reasons for investing in innovation are to capitalize on market potential (i.e. growth opportunities) and to fulfil customers' requests.
Among the main problems for the commercialisation of innovative goods and services are access to finance and the cost and complexity of meeting regulations and standards.
Less than one in five manufacturing companies has used high performance manufacturing technologies (17%), sustainable manufacturing technologies (16%) or IT–enabled intelligent manufacturing (only 11%). There has been quite a substantial decline in the use of all three advanced manufacturing technologies since the last survey. Around two thirds of manufacturing companies have not used any of these technologies and this proportion has increased considerably since the last survey (+14 percentage points).
Design activities play a role, in more than six out of ten companies. However, the number of companies that use design systematically has not increased since last year.
Innovative companies see supporting the training of staff as the most important public support for commercialisation of their innovations. This underlines the importance of the skills dimension for innovation and industrial competitiveness.
Innovative companies will require marketing skills (28%) to help improve and support their innovation activities over the next two years. A slightly lower proportion require technical skills (24%) and 22% say they need financial skills related to investment and access to finance.
WHAT IS THE COMMISSION DOING TO FOSTER INNOVATION IN THE EU?
The Commission attaches great importance to innovation. Innovation is crucial for productivity, competitiveness and growth, as confirmed in the recent report 'Science, research and innovation performance of the EU'. Innovation helps tackle grand societal challenges and at the same time provides opportunities for established and newly emerging sectors and job creation. There is a proven link between investment in research and innovation and competitiveness, growth and job creation: innovation accounted for 62% of economic growth in Europe between 1995 and 2007.
The Commission is working to foster innovation across sectors and policy areas, e.g. by encouraging the development of energy-efficient technologies, supporting the balanced development of the collaborative (or sharing) economy, encouraging the uptake of mobile health services and connected cars by speeding up the development of common standards in priority areas such as 5G or the Internet of Things, setting up a European cloud, reducing the cost of IP protection through a Unitary Patent – to name but a few.
With a €77 billion budget for the 2014-2020 period, Horizon 2020 is the world's largest research and innovation funding programme. It takes an all-encompassing approach to Research and Innovation, supporting the entire innovation chain from frontier research to close-to-market activities.
The Commission is constantly improving synergies with the European Structural and Investment Funds and other EU-led financial instruments and venture capital funds to assist companies, and therefore the economy, to grow and prosper. ESI Funds target key investment areas to enhance growth in EU countries and regions. The Funds contribute EUR 121 billion to smart growth, including research & innovation.
The Horizon 2020 Policy Support Facility and the Smart Specialisation Platformhelp EU regions and countries in reforming their research and innovation systems. Such reforms are crucial to improving the performance of countries as well as their framework conditions for innovation. Horizon 2020 also contributes to the revitalisation of the EU's industrial base by supporting innovation activities or procurement of innovative solutions.
Despite abundant funding opportunities, access to finance, both on the debt and equity side, remains a critical issue for SMEs, start-ups and young entrepreneurs who want to succeed and grow in the EU ("scale up"). Many entrepreneurs leave Europe because they can't raise the capital they need and SMEs cannot access a broader range of financing solutions. That's why in addition to providing Horizon 2020 and other EU funding instruments, the Commission is improving companies' access to private finance through the €315 billion Investment Plan for Europe, the Capital Markets Union and the Single Market Strategy. They are designed to unlock the abundant liquidity in the markets and put private investment and financing to work for the benefit of Europe's business, in particular SMEs. Venture capital is particularly important for start-ups but underdeveloped in Europe. If EU venture capital markets were as deep as the US, as much as €90 billion more in funds would have been available to companies between 2008 and 2013.
Innovation plays a key role in implementing the €315 billion Investment Plan for Europe. The Investment Plan offers the opportunity to scale up private and leverage public spending, build a pipeline of quality projects and remove the barriers to investment in RDI. More than half of the projects approved so far by the European Investment Bank for financing under the European Fund for Strategic Investments (EFSI) have a strong innovation element to them.
SMEs also often complain about the complexity of VAT regulation, aspects of company law and more generally about how to comply with variousregulatory requirements in different markets. To further help scale-ups to flourish and bring innovation to the market, the Commission also plans to simplify VAT requirements, reduce the cost of company registration and put forward a proposal on insolvency to give honest entrepreneurs who fail a second chance (the Commission recently ran a public consultation on insolvency frameworks until 14 June). Information on regulatory requirements should be accessible through a single digital gateway and the Commission will push for high quality, online public services to reduce administrative burden and make Europe a more attractive destination for innovators from both inside and outside the EU. The Commission also recently launched a public consultation to hear the views of entrepreneurs and start-ups, as well as all other stakeholders, on how to improve the environment for start-ups in the EU. The consultation launches the Start-up Initiative announced in the Single Market Strategy which aims at creating favourable conditions for entrepreneurs to start up and scale up their businesses in the EU.
And since innovators often perceive regulation as an important barrier to bringing their products to market, the Commission recently launched a new pilot scheme called "Innovation Deals" to help innovators with promising solutions to environmental issues to navigate regulatory challenges. Projects with strong potential to contribute to the EU's Circular Economy Action Plan will benefit from access to a close cooperation framework bringing together national, local and EU regulatory bodies to help navigate regulatory requirements. This pilot is intended to support innovative ideas for maintaining the value of products, materials and resources in the economy. The call for expression of interest will be open until 15 September 2016.
To help industry find the people with the right skills, the Skills Agenda for Europe aims to nurturethe high-end skills that drive innovation. The recently launched thematic smart specialisation platforms will help countries and regions team up around shared innovation priorities. The platforms offer hands-on support to regions to foster interregional cooperation based on matching smart specialisation priorities in the fields of energy, industrial modernisation or agri-food. They aim to create an investment pipeline of mature projects in new growth areas across the EU, by providing tailored advice and helping regions establish links with the business and research communities.
See also IP/16/2486
[1] formerly named Innovation Union Scoreboard