Please also see the press release on the interim report.
For additional background on the purpose of sector inquiries in general, its link to the Energy Union Strategy, different types of capacity mechanisms and the choice of Member States covered by the inquiry, please refer to Factsheet of April 2015.

Why a sector inquiry on capacity mechanisms?
An increasing number of Member States are introducing capacity mechanisms to encourage investment in new power plants and/or ensure that power plants continue to operate. Adequate capacity to produce electricity is needed to avoid black-outs and ensure that electricity supply meets demand at any time.
However, depending on how they are designed and implemented in practice, capacity mechanisms also have the potential to fragment the EU Single Market, distort competition by favouring certain producers or types of technology, and create barriers to trade across national borders.
The sector inquiry is aimed at getting a better understanding of these measures and ensuring that they comply with EU state aid rules. In particular, the sector inquiry enables the Commission to:
collect the views not only of Member State authorities as in case investigations, but also of stakeholders such as electricity generators, suppliers, network operators and demand response providers to inform the Commission of problematic issues
identify design features that may distort competition between capacity providers (e.g. between power generators and demand response operators) and distort cross-border trade
promote competitive and market-based capacity mechanisms that complement the internal energy market rather than divide it, and
ensure Member States design and implement pro-competitive and market-based capacity mechanisms, in line with EU state aid rules.
The sector inquiry also complements the Commission's Energy Union Strategy to create a connected, integrated and secure energy market in Europe.

How many responses to the sector inquiry were received?
The Commission sent detailed questionnaires to over 200 public bodies, energy regulators, network operators and market participants commercially active in the 11 Member States covered by the inquiry (Belgium, Croatia, Denmark, France, Germany, Ireland, Italy, Poland, Portugal, Spain and Sweden). It has received 124 replies.
Further evidence will be gathered as part of the public consultation on the interim report.

What are the different models of capacity mechanisms?
There are various forms of capacity mechanisms. For the purposes of the sector inquiry, the Commission distinguishes six categories. These can broadly be divided into targeted mechanisms, which are mechanisms that only benefit specified operators (i.e. tenders for new capacity, strategic reserves and targeted capacity mechanisms), and market-wide mechanisms, which are in principle open to participation from all categories of capacity providers (i.e. central buyer obligations, de-central obligations and capacity payments).
See further details on different types of capacity mechanisms in Factsheet of April 2015.
What types of capacity mechanisms are implemented or in planning in the EU?
The inquiry has found 28 past, existing or future capacity mechanisms in the 11 Member States examined.
Almost two thirds of the capacity mechanisms identified are targeted mechanisms, i.e. they benefit only specific types of operators. At the same time, most of the mechanisms in planning by Member States are market-wide (for instance the French, Irish and Italian planned schemes).
However, currently the most common capacity mechanism is a "strategic reserve", where governments pay providers for keeping power plants operational. These plants can be called upon by the network operator in emergency situations. So-called 'interruptibility schemes', in which industrial customers are asked by the network operator to reduce their demand in scarcity situations, are also considered a form of "reserve", as they provide capacity that is only activated when a supply shortfall occurs.
Tenders for new capacity were found in France, Ireland and Belgium. All three tenders were very specific on the size, technology type and location of capacity tendered out. As such, tenders may be an appropriate temporary measure to incentivise investment in electricity generation capacity (including potentially in a specific location). However, a tender does not effectively address longer term generation adequacy problems, and should be combined with reforms to address underlying market and regulatory failures.
Targeted capacity payment schemes were found in Italy, Poland, Portugal, and Spain. The schemes typically cover one or more types of electricity generation (coal, gas, hydro with storage and sometimes oil). The price paid for capacity in these schemes is set administratively, rather than through a competitive tender process. In general, the beneficiaries of targeted capacity payments must make their capacity available during peak demand periods, or face financial penalties. Targeted capacity payments also do not address the underlying issues that caused the capacity problem. An additional drawback of this model is that the administrative price setting process increases the risk of overcompensation of the beneficiaries.
Table: Capacity mechanisms sector enquiry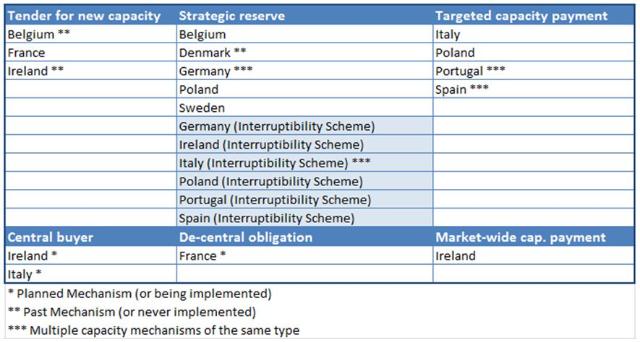 Source: European Commission on basis of the Capacity mechanisms sector enquiry
What preliminary conclusions does the Commission draw from the inquiry's interim results on Member State?
The interim report indicates that many Member States need to be more thorough both assessing i) whether capacity mechanisms are necessary and ii) in their design to ensure they are cost-effective and do not distort competition.
i) On methodologies to establish the need for capacity mechanisms
The preliminary results of the Commission's inquiry show that many existing capacity mechanisms have been designed without prior assessment of whether a security of supply problem existed in the relevant market. Almost half of the Member States studied appear not to have adequately established what should be their appropriate level of supply security before putting in place a capacity mechanism.
Moreover, methods of assessing security of supply vary widely between Member States, which makes comparison and cooperation across borders difficult. It seems that the possibilities of supplies from neighbouring Member States are not sufficiently taken into account in national assessments, nor are regionally aligned assessments taken as a basis for capacity mechanisms.
A more harmonised approach to generation adequacy and reliability standards therefore seems necessary to enable more coordination and cooperation across borders.
ii) On the design of current capacity mechanisms
The interim report highlights significant shortcomings in relation to the design of capacity mechanisms.
The majority of Member States have mechanisms in place in which the price paid for electricity capacity is not determined through a competitive process but set administratively by the Member State or negotiated bilaterally between the Member State and the capacity provider. This creates a risk of overpayment, thereby subsidising the provider. The Commission found mechanisms with administratively set prices for example in Germany, Ireland, Italy, Poland, Portugal and Spain.
Many capacity mechanisms do not allow all potential capacity providers or technologies to participate, which is not cost-efficient and may unnecessarily limit competition among suppliers. There are for example mechanisms targeted only at one source of generation (e.g. coal) and mechanisms that explicitly exclude the participation of some providers (e.g. demand-side response providers, new-build capacity or storage providers). However, there is a general recent trend towards more open and inclusive mechanisms.
Finally, the inquiry shows that power plants from other Member States are very rarely allowed to participate in national capacity mechanisms. The only Member States in the inquiry that have allowed for some form of direct participation of cross-border capacity in capacity mechanisms are Belgium, Germany and Ireland, but also there restrictions exist. Allowing foreign capacity providers to participate directly in a national mechanism avoids discrimination, ensures that Member States procure capacity at a lower cost, and helps build a more integrated EU energy market.
Does the Commission prefer certain models of capacity mechanism over others?
There is no one size fits all. Depending on the specific generation adequacy problem, different models may be appropriate. This being said, the preliminary results of the inquiry indicate that competitive price setting in open and inclusive capacity mechanisms generally delivers the most cost-efficient outcomes. The market-wide models may therefore be the most appropriate measures if the underlying market failure is a general capacity shortage. In any event, to be really effective they need to be open to all possible capacity providers, including from other Member States.
Because they do not fix underlying market failures, reserves and tenders for new capacity seem to be less appropriate in many situations, and seem mainly suited as transitional measures. A strategic reserve can for example prevent that too many power plants close down while longer term reforms are made.
Capacity payment schemes which lack a competitive price setting process are in principle the least appropriate type, since without competitive process it is much more difficult to set the level of compensation for beneficiaries at the appropriate level.
In all cases, capacity mechanisms must be carefully designed with specific attention to transparent and open rules of participation and minimising adverse impacts on electricity flows in the European energy market. In particular, electricity prices should continue providing a signal of scarcity so that electricity is imported from other Member States at the right times.
Finally, these findings do not prejudge the Commission's assessment of the compatibility with EU state aid rules of any individual capacity mechanism, which requires a case-by-case analysis.
What will happen now?
The interim report published today is now open for public consultation. The Commission invites Member States, stakeholders in the electricity sector and others to submit comments on the interim report and the annexed staff working document by 6 July 2016. In the light of comments received, the Commission will publish a final report on the results of the sector inquiry later this year. In the meantime, the Commission continues to assess capacity mechanisms under EU State aid rules, and in particular the 2014 Guidelines on state aid for environmental protection and energy.
The sector inquiry also contributes to the Commission's Energy Union objectives. In particular, the results of the inquiry will feed into legislative proposals on a revised electricity market design due to be presented later this year (see further details here).