Why is it important to protect IPR?
As underlined by the Europe 2020 Strategy, the protection of IPR is key to the EU's economy. By giving people the incentive to be creative and innovative, IPRs foster economic growth, and the creation and protection of millions of jobs.
What customs measures are in place at EU level to protect IPR?
Since 2003, EU rules lay down the provisions for customs actions to protect and enforce intellectual property rights. Specific provisions introduced in 2004 provide standardised rules for Member States on the submission of information on detentions and for the application for action by right-holders.
A new Regulation concerning customs enforcement of intellectual property rights came into force on 1 January 2014 (see IP/11/630 and MEMO/11/327). This regulation introduced a change to the procedure for destroying goods suspected of infringing intellectual property. Such goods can now be destroyed by customs control when they are suspected of infringing an IPR, and without the need to initiate a legal proceeding to determine the existence of an infringement. A new procedure for the simplified destruction of small consignments was also added which may be applied at the request of the right-holder of an intellectual property in the case where an infringement occurs.
The Anti-Counterfeit and Piracy Information System (COPIS) also became operational in 2014. This database is used by customs authorities to register the applications for actions and infringements by rights-holders.
EU customs authorities are coordinating their activities via the EU Customs Action Plan to combat IPR infringements for the years 2013 to 2017 (see MEMO/12/967).
What role do customs authorities play in the protection of IPR?
Right-holders can ask for customs action to protect their rights at the border. When they have a suspicion of an infringement, customs can detain the goods or suspend their release and inform the right-holder accordingly. The right-holder is given the opportunity to initiate court proceedings to determine the infringement, while the goods remain under customs control. The EU rules under Regulation (EC) No 1383/2003 allowed Member States to provide for a simplified procedure where the goods can be destroyed without the obligation to establish the infringement by a court where the declarant or holder of the goods agrees. Under the new Regulation of June 2013, the simplified procedure became the standard to be applied in all cases, with the exception of those where criminal procedures apply.
Is the detention of IPR infringing goods only a matter for customs authorities?
Customs administrations are the controlling bodies at the external frontiers of the EU.
In most Member States, law enforcement authorities other than Customs are responsible for controlling IPR infringing goods within their territories, at open markets or production sites, for example.
How important is industry's role in protecting IPR?
Right-holders may lodge an application requesting customs to take action in cases where there is a suspicion that an IPR has been infringed.
The identification and grounds for suspicion of an infringement relies on the information provided by industry in the application for action (such as the type of IPR infringing goods, information on production and means of transport, physical characteristics of original goods, etc.). The European Commission, together with Member States, has established a manual for right holders for lodging and processing applications for action. Right holders may lodge an application, requesting customs to take action even when they do not have a concrete suspicion that their goods have been infringed.
Evidence of the close cooperation between customs and the private sector is shown in the growing numbers of applications for action submitted to customs. Over the last eight years, the number of applications for action made in the Member States has doubled, going from 10 260 to 20 929 in 2014.
The new Regulation of June 2013 which came into force on 1 January 2014 specified that all applications for action that expired during 2014 had to be replaced by a new application. This led certain right-holders not to submit a new application when their old application expired, which partially explains why there were fewer applications for action in 2014 than in the two previous years.

Number of applications 2007 – 2014
Source: Report on EU customs enforcement of intellectual property rights at EU border, 2014
What happens to goods once they are detained by customs?
In over 90% of detentions, the goods were either destroyed or a court case was initiated to determine the nature of the infringement. In 27% of cases, the detentions resulted in the destruction of a small consignment – possible thanks to the new procedure introduced by Regulation (EU) No 608/2013. In more than 8% of the cases, the goods were released because they appeared to be non-infringing original goods or no action was undertaken by the right-holder after receiving the notification by the customs authorities.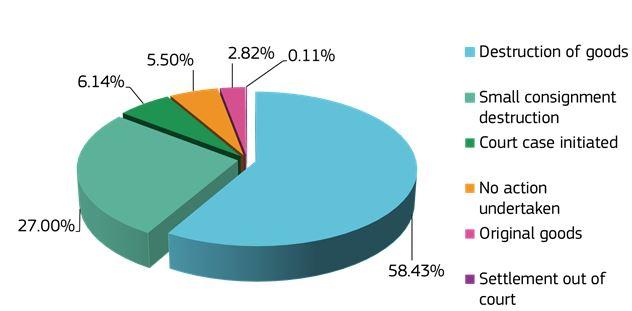 Breakdown of result by cases
Source: Report on EU customs enforcement of intellectual property rights at EU border, 2014
What is being done to ensure customs cooperation on IPR with third countries?
In addition to EU controls at import, it is necessary to address the source of the problem by preventing the export of IPR infringing goods and, where possible, by shutting down the production. This requires international cooperation.
For example, the EU is cooperating with China in the framework of the recently signed EU-China customs action plan on IPR enforcement (MEMO-14-353). The new plan concentrates on 5 key areas, namely the exchange of statistical information, the creation of a network of customs experts in key-ports, promoting cooperation with other enforcement agencies and authorities, development of partnerships with business communities and exchange of knowledge and experience of each other's IPR enforcement policies and practices.
2. Statistics on customs detentions
How many suspected IPR infringing goods were detained in 2014 compared to previous years?
The total amount of articles detained remained stable compared to the previous 2 years, with 35,5 million articles detained in 2014, while the number of overall seizures increased from 86,854 in 2013 to 95,194 in 2014. The high number of detentions, which remained stable in comparison with the previous two years, is linked to the large amount of small parcels in express and postal traffic, most probably as a result of internet sales. Fluctuations in the number of detained articles have always taken place over the past years. For categories like cigarettes, medicines or labels one shipment can contain several millions of articles and therefore cause these fluctuations very easily.
What is the major trend?
The overall number of detentions increased in 2014. This shows that the procedure on small consignments works well and limits the administrative burden on customs authorities and on right-holders.
Customs have seen a shift over the last five years towards small packages of IPR infringing goods coming into the EU via post and couriers. This is most probably due to the recent uptake for consumers in online shopping and with the added convenience of home delivery. Nevertheless, selling and shipping goods to the EU that infringe an intellectual property right such as a trademark or a patent is illegal.
What's the difference between cases and articles?
A case represents an interception by customs. Each case covers a certain amount of individual articles that can vary from 1 to several million and can relate to different type of goods.
The total number of cases in 2014 reached 95,194, over 8,000 more than in 2013.

Number of registered cases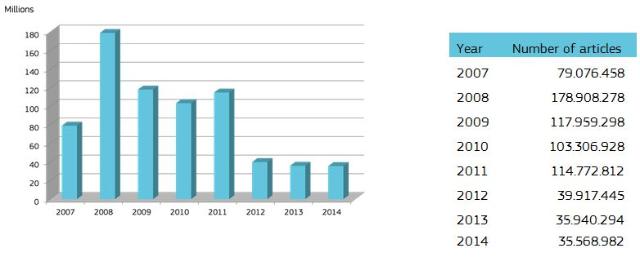 Number of detained articles
Source: Report on EU customs enforcement of intellectual property rights at EU border, 2014
What kinds of article are most frequently detained?
Cigarettes are at the top of the list (35%), followed by toys and medicines. Products for daily use (i.e. toiletries, medicines, toys, electrical household goods) accounted for 28.6% of the total number of detained articles.
Source: Report on EU customs enforcement of intellectual property rights at EU border, 2014
Where did the suspected IPR infringing goods come from?
China remained the primary source country (80%) for suspected IPR infringing goods. As in previous years, Hong Kong, United Arab Emirates, Turkey and India are also among the most important originating countries. A large detention of fruit coming from Peru occurred in 2014, which is why the country appears in the statistics. For certain product sectors, other countries were listed prominently: Panama for alcoholic beverages, Morocco for non-alcoholic beverages, Malaysia for mobile phone accessories, Thailand for ink cartridges and toners and Hong Kong, China for other toiletries, mobile phones, CD/DVD and other tobacco products.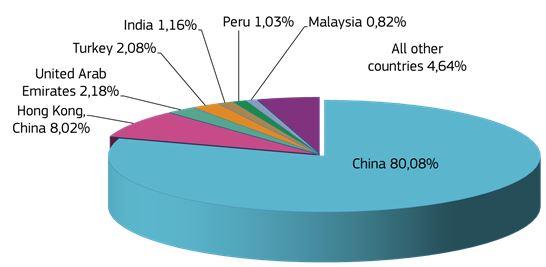 Country of provenance by articles
Source: Report on EU customs enforcement of intellectual property rights at EU border, 2014
Which means of transport were most used to import suspected IPR infringing goods into the EU?
The largest number of cases were detained through postal and express carrier transport (81%), followed by air transport (14%).
Registered cases by means of transport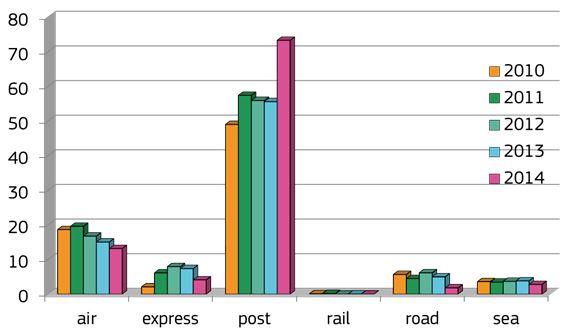 Source: Report on EU customs enforcement of intellectual property rights at EU border, 2014
See also IP/15/5919