What are adequate pensions?
Pensions constitute the main element of income in old age. Their adequacy is primarily measured by their ability to prevent poverty, to replace the earnings people had before retiring and to ensure a living standard on par with younger age groups. This edition of the Pension Adequacy Report looks also into all forms of old age income – public as well as private – for men and women, and seeks to assess the importance of pensions relative to other resources available to older people, including their housing wealth and access to free or subsidised public services.

What is the income situation of older people today?
Figure 1: Average (median) income of people aged 65 and over as percent of the average income of people below 65 years of age, total and by gender, 2013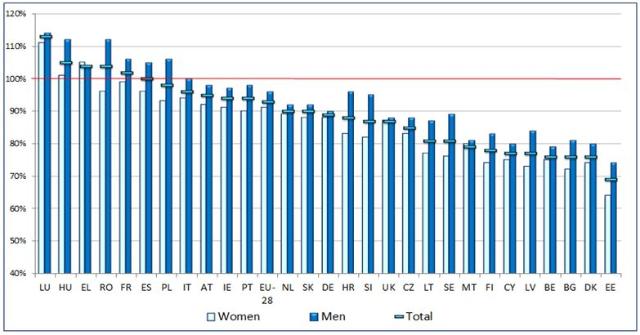 Source: Eurostat (table ilc_pnp2). Note: Based on EU-SILC 2013, which refers to the income year 2012.

On average, older people in the EU are enjoying living standards close to those of the population below retirement age and face lower risks of poverty and social exclusion than those of working age. At the same time, there are huge differences between Member States with respect to the overall situation and in terms of differences between men and women, and between the younger and the older group of retirees.
The relative median income of people aged 65 or more comes to 93 percent of the income of those under that age. But it ranges from below 80 percent in eight Member States to above 100 percent in six Member States in 2013 (Figure 1).
In 2012, 14% of those aged 65 and over were at risk of poverty (i.e. disposing of less than 60% of the median income in a given country), compared to 16% for the rest of the adult population . But differences in poverty rates across countries are large, ranging from below five to 28% of the older population (Figure 2).
Figure 2: At-Risk-of-Poverty Rate, by age group, 2012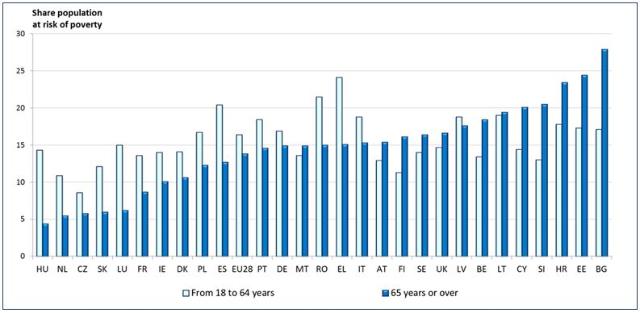 Source: Eurostat, EU-SILC 2013. Note: Sorted by the at-risk-of-poverty rate for the population aged 65+
Pensioners have largely maintained their relative standard of living over the crisis, but old-age poverty continues to be a problem in some countries, particularly for women. While the risk of poverty increased for those below 65 since the onset of the crisis, from around 16% in 2008 to 17% in 2012, during the same period the rate went down for those over 65, from 17.8% in 2008 to 13.8% in 2012 – a development that has benefited both men and women and older as well as younger retirees.

Who among the present pensioners are less well-protected?
Women are more exposed to poverty in old age (15.6%) than men (11.4%) as they tend to have much lower pensions of their own. Most of them also outlive their partners, become widowed and end up living in more precarious single person households (Figure 3). In 2013, 40 percent of women above 65 lived in a single household in the EU-28, compared to only 19 percent of older men and 17 percent of the population below age 65. Survivors pensions can provide an effective protection against the risk of economic hardship caused by the death of a partner. Another factor that can reduce the risk of old age poverty is home ownership.
Figure 3: At-risk-of-poverty rate, by gender, 2012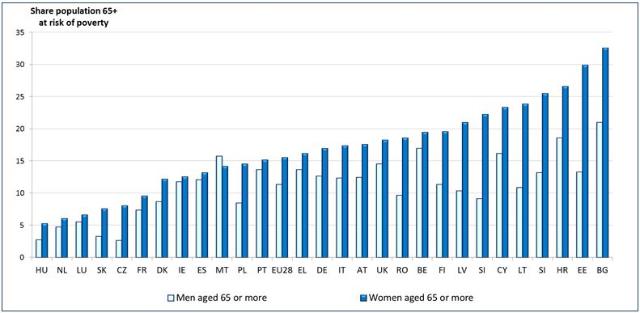 Source: Eurostat, EU-SILC 2013. Note: Sorted by the at-risk-of-poverty rate for women aged 65 or more.

Why do women end up with lower average pensions than men and what can be done about this?
Everywhere in the EU, women receive lower pensions than men, on average 40% less. Across Member States, this Gender Pension Gapfor the 65-79 year olds (taking into account only those who do receive pension income), ranged from a low 3.6 percent to a high 46 percent in 2012 (Figure 4).
Figure 4: Gender Gap in Pensions (%), pensioners aged 65-79 years vs. 65+, 2012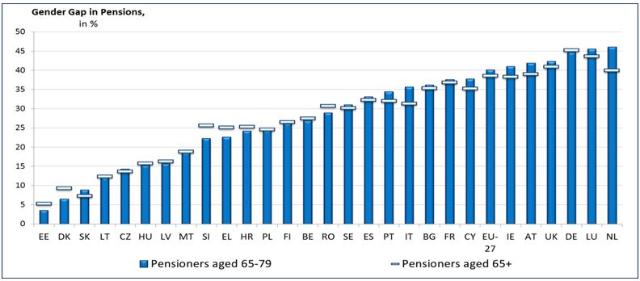 Note: Numbers indicate size of gap for pensioners aged 65-79. Source: EU-SILC 2012, own calculations. In BE and IE figures are based on 2011 data.
These gaps are the consequences of gender differences in employment, i.e. in pay, working hours and duration of working life. Some pension systems are designed in such a way that these differences in life-time employment and earnings are not fully mirrored in pension outcomes. A lower gender pension gap may result over the long term from more equal opportunities in employment for women and men, but pension system features such as care leaves or survivors' benefits will continue to play an important role in closing the gap.
How will pensions in the future compare to those of today?
The impact of recent reforms on future pensions can be assessed by comparing the pension level of someone who retired with a given career (40-year) in 2013 to the projected pension of a person who starts the same type of career today and retires in 2053. The reformed pension legislation (which may include changes to be implemented progressively over the coming years, such as rising pension ages) will, in most Member States, imply a lower level of pensions in the future in relation to previous earnings ('replacement rate').
Between 2013 and 2053 (see figure 5), projections show a general decline in pension entitlements from the main public pension schemes. For an average wage earner, replacement rates of public pay-as-you-go schemes are projected to decrease by more than five percentage points in 16 Member States and by more than 15 percentage points in six Member States.
This drop is expected to be partially compensated by rising entitlements from funded schemes in 15 Member States. In those countries, pension entitlements will increasingly derive from these schemes and pensions will become more dependent on developments in financial markets.
Figure5: Percentage points difference between 2013 and 2053 in gross theoretical replacement rates, by type of pension, for workers on average earnings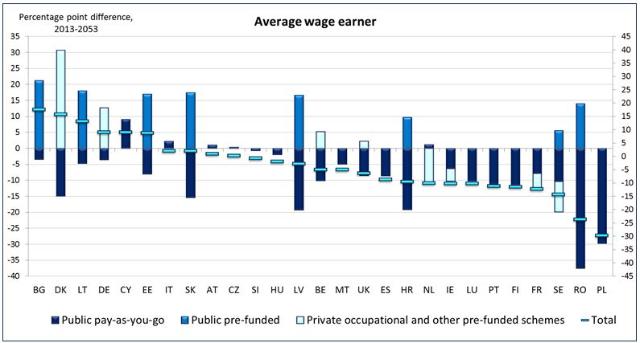 Data source: Member States and the OECD. Note: A positive difference indicates a higher gross TRR in 2053 as compared to 2013. 2013 data for Greece not available. Sorted by total change in gross TRR for an average earner (40 year career up to SPA). If gender differences exist, results for men are reported.
How big are the risks that young people of today may end up with inadequate pensions in the future?
Future pension adequacy will depend, to a much higher degree, on the amount and length of pension contributions resulting from the career average wage level and the length of the working career. Low earnings, long career breaks and early retirement can therefore be identified as the key risk factors for inadequate pensions in the future.
In the majority of Member States, a low wage earner with a full career can expect a net pension close to, or above, 50 percent of the net average wage. Career breaks tend to worsen the income prospects, although short breaks of three years during the working life, whether due to unemployment or childcare, will usually only lead to small reductions.
By contrast, early retirement and short careers will constitute a major risk to the future pension adequacy of low wage earners. Whether the labour market exit is the result of unemployment or disability five years before the pensionable age, or takes place two years before the pensionable age, the reductions in pension levels can be substantial. Moreover, someone who retires after a shorter career of 30 years at low earnings would get a pension of less than 40 percent of average earnings in nine Member States, an income level that is likely to be below the poverty threshold.
Workers with full careers at average earnings will obviously have higher pension levels, but the risk of poverty in old age would still increase significantly if average earners have to retire early for reasons of unemployment or disability, or if they end up with careers that fall 10 years short of the full 40 year standard.

How can the risks to pension adequacy in employment opportunities be reduced?
Measures in workplaces and labour markets that enable and encourage women and men to have longer and less interrupted working careers are the key to reducing the number of people at risk of receiving an insufficient pension. Policy makers will need to work on both the demand and the supply side of labour markets for older workers, in close cooperation with the social partners.
A first priority should be to ensure that working longer and delaying pension take-up will be rewarded. Yet, whereas financial incentives to work longer are important, they are not sufficient. To enable longer working lives, the health and skills of men and women need to be maintained as they age, and older workers need to be encouraged and enabled to move into jobs that are well-suited to their abilities and strengths. They should also be able to take a new job with another employer. Flexibility in working arrangements has proved particularly useful to enable and encourage workers to work to higher ages. The degree of autonomy in work organisation, access to job-rotation and the ability to adjust working hours and improve the reconciliation of work and family obligations are important.
However, the focus should not only be on the last phase of people working life. Measures that lower longer term unemployment among youths and ensure early labour market integration on normal contractual conditions including social protection coverage will also contribute to lowering the risks to pension adequacy. The agenda for earlier and better integration of non-EU migrants into labour markets and society is also an essential part of a programme for reducing risks to income maintenance in old age. Policies for reducing gender gaps in pay, working hours and career length are, likewise, active means of narrowing the gender gap in pension entitlements.
Which safeguards will be needed to protect those that cannot work until the rising pensionable age?
The purpose of employment and pension policies is to ensure that opportunities for good working careers become available to a broad majority of people. Still, these opportunities tend to be unevenly distributed across the population. With adequate pensions becoming increasingly dependent on contributory periods, social protection policy makers must take into account the fact that not all groups and individuals can work to higher ages and have longer or less interrupted careers.
For these, it will thus be necessary to establish some provisions that protect them against poverty, such as minimum pensions or other minimum income provisions for older people. Some form of crediting of involuntary absence from employment will also be called for in order to reduce the impact on pension rights caused by periods of illness, unemployment, caring duties, etc. Furthermore, pension policy may need to devote more attention and greater resources to its poverty protection functions in the future.
It is, however, important to ensure that measures designed to provide adequate pensions to people with poor employment opportunities will not encourage an early exit from the labour market for people who could achieve a full career, as has often been the case with certain early retirement, invalidity or unemployment benefit schemes.

For more information
Adequate Pensions - new report calls for measures to enable people to work until they reach the pension age: IP/15/5769

The 2015 Pension Adequacy Report: current and future income adequacy in old age in the EU

News item on DG Employment website

Follow Marianne Thyssen and Social Europe on twitter
Subscribe to the European Commission's free e-mail newsletter on employment, social affairs and inclusion: http://ec.europa.eu/social/e-newsletter