The approval is conditional upon the implementation of commitments to ensure effective competition in the Belgian retail mobile market.
Commissioner Margrethe Vestager, in charge of competition policy, stated: "We have made sure that Liberty Global's merger with BASE will not reverse the trend of declining mobile prices in Belgium in recent years. To maintain healthy competition in the Belgian mobile market, Liberty Global and BASE will sell part of their customer base to a new virtual mobile operator."
The Commission's investigation
The transaction will bring together BASE, one of Belgium's three mobile network operators, with Telenet, a Belgian cable operator controlled by Liberty Global that also offers mobile services as a mobile virtual network operator. Mobile virtual network operators do not own a network of their own but rent that of other operators.
The Commission's investigation revealed that BASE competes aggressively on the Belgian retail mobile market and has challenged other operators with attractively priced offers. Telenet has been an exceptionally successful mobile virtual network operator in Belgium and its mobile offers have contributed to bringing mobile prices down. Without effective commitments, a merger of these two dynamic players would have significantly reduced competition, with a risk of higher prices and less choice and innovation for Belgian mobile consumers.
The Commission also investigated concerns raised by competitors that, after the acquisition, Liberty Global would be able to exclude competitors from the market by bundling fixed and mobile services in packages. The Commission did not find these concerns justified. Indeed, the acquisition will not alter the market structure since Telenet already offers both fixed and mobile services
Finally, the Commission looked at whether the acquisition would result in worse wholesale access conditions for mobile virtual network operators in Belgium. The Commission concluded that the acquisition raised no concerns in this respect, since the incentives for BASE and Liberty Global to grant wholesale access to their network do not change with the merger.
The transaction was notified to the Commission on 17 August 2015. The Commission opened an in-depth investigation on 5 October 2015.
The commitments
To address the Commission's concerns, Liberty Global has committed to:
- sell BASE's share in Mobile Vikings, a mobile virtual network operator that uses BASE's network, to Belgian broadcaster Medialaan; and
- transfer part of BASE's customer base to Medialaan. BASE and Medialaan currently have an agreement under which BASE sells mobile services under the brand JIM Mobile, owned by Medialaan. Liberty Global will transfer the customers of the JIM Mobile brand to Medialaan.
Liberty Global has also concluded an agreement with Medialaan, giving the latter access to BASE's mobile network at conditions that will allow Medialaan to compete effectively as a full mobile virtual network operator.
The remedies adequately address the Commission's concerns since they ensure that a new mobile virtual network operator will enter the retail mobile market, to compensate for the loss of competition resulting from the exit of Telenet as an independent mobile virtual network operator.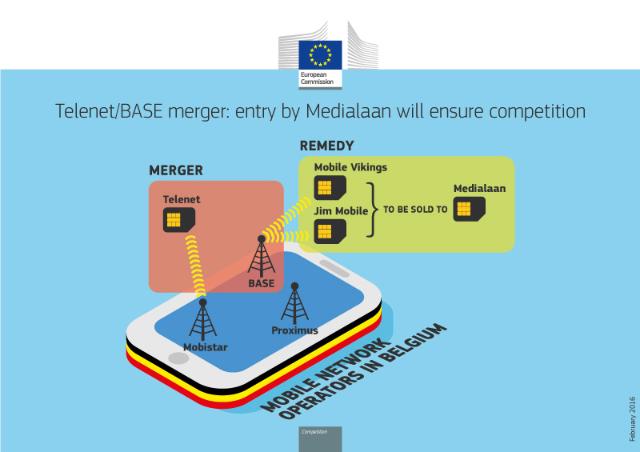 Companies and products
BASE, a subsidiary of the Dutch telecoms group KPN, is one of Belgium's three mobile network operators, together with Proximus and Mobistar. It offers mobile services to consumers and businesses in Belgium. It also owns a 50% stake in Mobile Vikings.
Liberty Global controls the Belgian cable operator Telenet. Telenet offers fixed telecommunications services (TV, fixed broadband and fixed line telephony) in Flanders and parts of Brussels. It also offers mobile services as a full mobile virtual network operator, using the network of Mobistar.
Mobile Vikings is based in Hasselt, Belgium and offers mobile services as a mobile virtual network operator using BASE's mobile network.
Medialaan is a media company based in Vilvoorde, Belgium. It broadcasts TV and radio channels in Dutch. It also operates an online video on demand platform called Stievie Free.
Jim Mobile is a brand owned by Medialaan. It is used by BASE to sell mobile services to some of its customers under a branded partner agreement with Medialaan.
Merger rules and procedures
The Commission has the duty to assess mergers and acquisitions involving companies with a turnover above certain thresholds (see Article 1 of the Merger Regulation) and to prevent concentrations that would significantly impede effective competition in the EEA or a substantial part of it.
There are currently four ongoing in-depth merger investigations:
More information on this case is available on the Commission's competition website, in the public case register under the case number M.7637.