European Commission Vice-President Jyrki Katainen, responsible for Jobs, Growth, Investment and Competitiveness, today launched a 28-country roadshow to promote the EU Investment Plan, worth more than €300 billion, and to explain the new opportunities open to governments, investors, businesses, as well as regional authorities, trade unions and communities.
Vice-President Katainen said:
"Our message is very clear: we are working to a very tight timeline to get new investment flowing into cash-starved business ventures, start-up firms, into infrastructure investments like transport or broadband and new schools and hospitals. We are taking to the road to build on the strong political support we have already received and to explain to the public and private sector how they can get involved."
The roadshow kicks off today in Romania, where the Vice-President will be joined by Regional Policy Commissioner Corina Crețu.
Vice-President Katainen will meet Prime-Minister Victor Ponta, President-elect Klaus Iohannis, Speaker of the Senate Călin Popescu Tăriceanu, as well as ministers and members of the Parliament. He will participate in a conference called "An investment boost to Europe" to promote the opportunity to around 100 potential investors and businesses and with the participation of the Governor of the National Bank of Romania.
He will also debate the EU's future with students and academia at Bucharest Academy of Economic Studies.
He will also open the Structural Funds Gala, an event rewarding EU-funded projects that made a difference in the life of communities they addressed.
He will conclude his time in Bucharest with a visit to the EU-funded project LuminaLed at Microelectronica, a private enterprise for research and production of LED for car manufacturers.
Today's visit to Romania will be followed by visits to Italy and Germany in January, to Spain, Croatia, Czech Republic and UK in February and to France in March. The aim is to cover all 28 EU countries by October 2015. The Vice-President will also make visits to non-EU countries to promote the Investment Plan.
The programme will be tailored to address specific investment needs in specific Member States. As well as national, regional and local authorities, the Vice-President will discuss the Investment Plan with representatives from the business community, trade unions, academia and students as well as potential investors. He will also visit projects benefitting from EU financing and discuss opportunities offered by the Plan.

Countries to be visited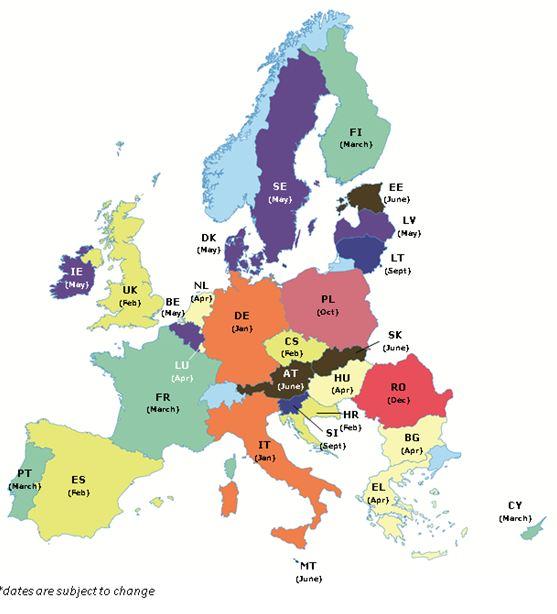 Background:
The Roadshow will cover the three angles of the EU Investment Plan:
(1) Mobilising Investment Finance. The aim is to provide potential investors (public and private), as well as those seeking to benefit from funding in the future, with practical information on how the new European Fund for Strategic Investments (EFSI) will work and how to get involved.
With strong political support from Member States and the European Parliament, the new European Fund for Strategic Investments could be established in June 2015, with financing available for projects in autumn 2015. Funding could be available even earlier for SMEs as the existing European Investment Fund gets reinforced.
(2) The new Project Pipeline. A pipeline of trustworthy, viable projects will be created under the Investment Plan - screened by independent experts - which are attractive to investors. The roadshow will provide information on how interested parties, including Member States, regions or project promoters can submit projects for screening, as well as the service which will be provided by a new technical assistance hub, to ensure that projects are well structured and comply with regulatory requirements;
(3) The Regulatory reforms. The roadshow will gather political support for regulatory reforms, at EU and national level which are critical to removing barriers to investment, opening new investment opportunities (in sectors such as digital, energy and capital markets) and changing permanently the investment environment in Europe.