Scientific Legacy of the Steering Committee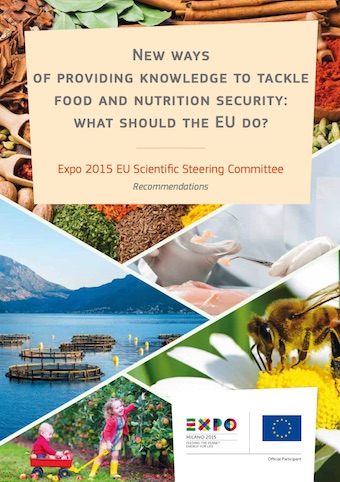 In order to ensure that the European Union took full advantage of the opportunities offered by the Expo to establish its role as a key player in a global scientific debate around "feeding the planet", a Scientific Steering Committee was set up in spring 2014. From the very outset the work of this committee, chaired by the former Commissioner for Agriculture, Franz Fischler, and consisting of 11 scientists as well as experts from civil society, industry and international organisations, aimed not only to give expert advice, but to contribute to the political legacy of the event.
The Committee published two papers to encourage discussion. The first, launched as the Expo opened, outlined the scale of the challenges and the breadth of research needed. The second, launched near the end of the Expo, drew on the results of the discussions held during the Expo and made four recommendations to the EU on how knowledge should be generated and used.
The document "New ways of providing knowledge to tackle food and nutrition security: what should the EU do?" combines, and updates, both papers and thus constitutes the scientific legacy of the EU participation in Expo.
EVALUATION REPORT
The evaluation of the EU participation in World Expo Milano 2015 was carried out by Coffey International Development on behalf of the European Commission.
Download the Evaluation of the EU Participation in World Expo Milano 2015